The Role of Outsourcing in Modern Accounting
For any business looking to thrive in modern times, it is challenging to overlook outsourcing as a means to achieve the desired growth trajectory. With the rise of the internet and the advent of the technology space, outsourcing has emerged as a significant strategic tool that has a pivotal role in the growth of every modern business practice.
None, more so than accounting, is a clear reflection of that. As the cost of accounting soared in recent times, marred with a shortage of resources and a tumultuous geo-political environment, businesses turned to outsourcing to transform their accounting functions into a high-performing business unit.
In this latest blog, we look closely at some of the parameters affecting the cost of outsourcing accounting and its impact on businesses of all sizes.
While outsourcing began as a cost-saving means for modern accounting practices, it has established itself as a strategic business enabler. Every modern business has embraced outsourcing accounting as a means to optimize their financial processes, sail through the complexities of contemporary finance, boost efficiency, and gain instant access to specialized expertise.
As we observe the evolution of technology to transform contemporary business landscapes, we will continue to see the evolution of outsourcing as an innovative business solution for businesses striving for growth and success. The cost however, will continue to fluctuate as per the demand. So let us understand the cost of outsourcing accounting and what are some of the key factors that are actually influencing the cost.
Factors Affecting Cost of Outsourcing Accounting
To understand the cost of outsourcing accounting, we must look closely at many factors that can influence it. As a business, these are some of the vital factors you need to assess accurately to make an informed decision for your outsourcing endeavors.
Here are some of the vital factors that can significantly affect the cost of outsourcing accounting:
Every CPA firm has a different need. Depending upon the breadth and depth of your accounting service requirement, your cost of outsourcing accounting can vary significantly compared to your counterparts. But, for a business looking for essential bookkeeping outsourcing services, the price will be lower than that of a company looking for comprehensive tax preparation, financial reporting, and strategic financial analysis.
• Complexity of Accounting Tasks
Some accounting tasks require more expertise and specialization than others. An excellent example of that can be tasks such as tax planning, financial analysis, and auditing. Consequently, these tasks attract higher fees than other tasks, whether in-house or outsourced.
The importance of financial data or information that needs to be processed also dramatically influences the cost of accounting tasks. Businesses having higher transaction volume will need more resources and time. Thus, the higher price.
Level of Accounting Expertise: Depending on the level of experience and accounting expertise you need; your outsourcing cost can vary significantly. You will attract higher prices if you need higher knowledge and skillset for your accounting tasks.
• Geographical Location of Accounting Outsourcing Partner
The geographical location of your accounting outsourcing partner can severely impact the cost of outsourcing. Countries or regions with low labor costs offer services at a lower price. However, they can have limitations in time zone differences, language barriers, and cultural nuances. So, when partnering with any such outsourcing service provider, you must consider all those parameters.
• Technology and Accounting Tools
Leveraging advanced accounting software, Cloud-based accounting platforms, and data analytics tools can significantly impact the cost of outsourcing. While the advanced tools and technology boost the efficiency of your overall accounting operation, the higher cost of these tools can affect your overall cost.
• Service Level Agreement (SLA)
Every outsourcing service provider offers unique SLA terms depending on service availability, response times, and dedicated support. All those factors can significantly impact the overall outsourcing cost for you. Premium SLAs tend to have higher fees, so you should consider that.
• Currency Exchange Rates
When partnering with an outsourcing service provider from a different country, you must consider the currency exchange rates and the fluctuation in them. The changes in currency exchange rate can severely impact the overall outsourcing cost for your project.
While some of the vital factors can affect the cost of outsourcing accounting, these are not the only factors determining it. Thus, it is crucial for you to have open and transparent communication with the outsourcing service provider you are deciding to partner with on every factor that can influence the final cost. This will align the outsourcing maneuver with your business needs and budget.
Popular Pricing Models in Accounting Outsourcing
While we have discussed the factors affecting the cost of outsourcing accounting, depending on your needs, you might come across various pricing models tailored to different business needs. Thus, it is essential to understand these pricing models in detail to select the one that best aligns with your business needs.
Here, we have described some of the most popular accounting outsourcing pricing models to help you get started: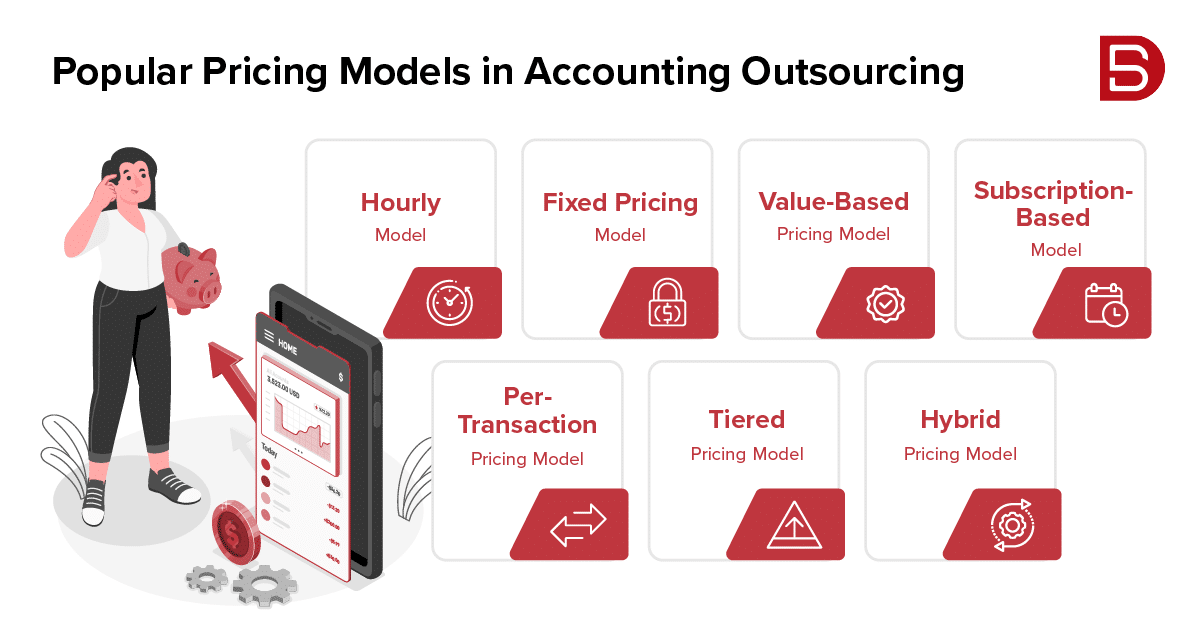 As the name suggests, this outsourcing model charges based on the work hours spent on your accounting requirements. This is the perfect model for you if you have constantly varying conditions. It is also suitable for businesses that need more time to finish their accounting tasks.
Fixed pricing models have a flat predetermined fee for all the accounting services. This makes it easy for businesses who want to outsource recurring tasks or have a list of well-defined tasks.
• Value-Based Pricing Model
The value-based pricing model charges you based on the perceived value of the service delivered. The overall fee can be determined as a percentage of the comprehensive business benefits you gain from the service, such as revenue growth.
• Subscription-Based Models
Subscription-based models work on a regular fee for all the accounting services. This fee covers a wide range of services, making predicting the budget easier and offering colossal convenience.
• Per-Transaction Pricing Model
This model works for businesses with high transaction value. The service provider charges a fee per transaction, including bills paid, invoices processed, or financial entries made.
The tiered pricing model has different pricing models depending on the volume of tasks or complexity. This model offers enormous flexibility to choose from depending upon the business need.
Hybrid pricing models combine the best features of different pricing structures and create a hybrid model for businesses seeking the best of both worlds.
While these are some of the most popular pricing models available, you must get the one that best aligns with your outsourcing budget and business needs. Some outsourcing service providers also offer customized pricing, bundled service models, performance-based pricing, and project-based pricing.
Make Informed Decisions about Outsourcing Costs
In conclusion, when looking for an accounting outsourcing service provider for your business, you must decide to get the best cost. Through this blog, we have discussed some vital factors that can influence outsourcing costs and some of the outsourcing models you can choose from. However, if you still need help making up your mind, write to us at marketing@datamaticsbpm.com, and we will have our accounting expert reach out to you with a package tailored to your business needs.