The idea of outsourcing accounting services is generally met with a distant fanfare in the boardroom than some other ideas do. You can attribute it to the scarcely spread stigma attached to outsourcing or the overtly cautious approach towards finance. Thankfully though, that picture is changing now. And changing for good, we must say. Currently, Outsourcing accounting services is a much-revered practice, with both CPAs and other organizations actively hiring an outsourcing partner for handling their accounting tasks and functions, which otherwise would've been handled in-house.
While professional accounting outsourcing service providers offer their clients a wide gamut of services, some of the most frequently outsourced tasks include bookkeeping, tax preparation, financial reporting, payroll processing, audit, and other accounting-related activities. The modern outsourcing provider is equipped with all the latest technologies and resources, which makes them a perfect proposition as an outsourcing partner. The most prominent benefit frequently associated with outsourcing is cost saving. However, there is much more to outsourcing accounting services than cost savings.
In this blog, we will closely examine some of the hidden benefits of outsourcing accounting services. If you are looking to onboard an outsourcing partner for your accounting needs, however, still have been able to make up your mind, these benefits will significantly help you. So, let us get started.
Benefits of Outsourcing Accounting Services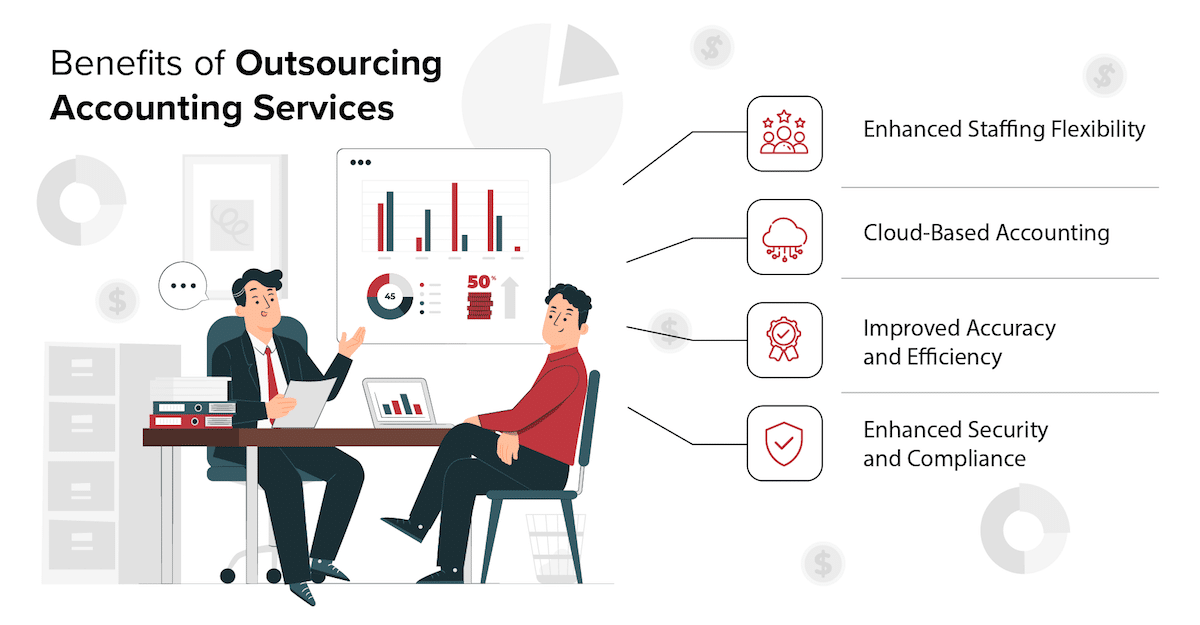 1. Enhanced Staffing Flexibility
CPA firms often need more resources. Especially when it's peak tax season, this leaves them little to no room to focus on strategic business moves. A reliable accounting outsourcing provider solves that issue by enhancing your staffing flexibility in more ways than one. Here are some examples of how an outsourcing partner improves your staffing flexibility.
Larger Talent Pool: Outsourcing accounting services provides you access to a larger talent pool, which otherwise would not have been possible with an in-house team. This allows you to get specialized services from experts in specific areas of interest for your business.
Minimum-to-No Training Time: Outsourcing simply eradicates the need of training staff members on services you need. This helps you save both, time and resources, which you might've needed for the orientation and training of newly onboarded employees.
Lower Risk of Turnover: Outsourced accounting services lower the risk of losing your key employees to turnover. As a result, you get no disruptions due to an employee leaving the form and can maintain constant accounting services for your clients.
2. Cloud-Based Accounting
Cloud-based accounting has emerged as the preferred mode of accounting services among the CPA fraternity. Every prominent CPA firm needs a Cloud-based accounting outsourcing provider to streamline their accounting processes and manage work effectively. Cloud-based service gives you consistent access to your data from anywhere. It makes it easier for CPA firms to always keep track of their finances and transactions.
Cloud-based outsourced accounting services also eradicate the need to invest heavily in expensive accounting hardware, software, and IT infrastructure. This results in significant cost savings, which can make a massive difference to the smaller CPA firms.
3. Can You Analyze and Predict the Financial Potential of Your Business to Shareholders or Investors?
Managing peak season accounting needs can be daunting for any CPA firm, regardless of size. Overburdened employees often result in errors and lower efficiency. This is why it is always a smart move to hire an outsourced accounting service. Here are a few ways in which outsourced accounting services can help you improve the accuracy and overall efficiency of your CPA firms.
Outsourced accounting service providers often have a rich suite of accounting technology to aid their employees. This helps them deliver work with increased accuracy and efficiency. Technologies such as artificial intelligence, Cloud-based accounting software, and other automation tools help them streamline their processes and cut down the risk of errors.
• Reduced Turnaround Time (TAT)
Outsourcing accounting services have a rich pool of accounting talent which makes it easier for them to manage peak season tax preparation and financial reporting tasks, which in turn helps CPA firms bring down their turnaround time.
Outsourced accounting service providers have stringent quality control processes in place. This ensures absolute accuracy for all the financial data and eliminates any possible errors and inconsistencies before them turning into significantly large issues.
4. Enhanced Security and Compliance
Security and compliance are of utmost importance for modern CPA firms, especially with the new hybrid working models becoming mainstream. This is why outsourcing accounting services deploys strict security and compliance protocols for CPA firms. Here are some ways in which they ensure complete security and compliance:
Data Encryption: Outsourced accounting service providers leverage end-to-end encryption for always safeguarding the financial data of their clients during data transfer and storage. This technology prevents the data from unauthorized access and ensures that sensitive client information is always safe.
Data Backup and Recovery: Outsourcing accounting firms maintain a proper data backup and recovery mechanism to ensure that there is no data loss due to a hardware failure or any unforeseeable disaster. This provides CPA firms with the much-needed business continuity assurance and safety of their data.
Compliance Expertise: Outsourcing accounting firms have dedicated experts for regulatory compliance. These experts ensure that the CPA firm is always adhering to its regulatory obligation. This includes compliance with accounting standards, tax laws, and other regulations.
Auditing: Outsourced audit support service-providing firms have regular internal audits in place to make sure that their processes and the data complies with the regulatory firms. This gives an additional assurance layer to the CPA firms who partner with them.
Overall, outsourcing accounting services can enhance security and compliance for CPA firms by providing data encryption, backup and recovery systems, compliance expertise, access controls, and auditing. By outsourcing accounting services, CPA firms can leverage the expertise and technology of outsourced accounting firms to ensure the security and compliance of their financial data.
In conclusion, outsourcing accounting services offer a wide gamut of benefits to CPA firms worldwide; fro cost savings to state-of-the-art IT infrastructure, you can leverage any benefit you desire by partnering with these service providers. However, to partner with the right service provider, you need to be very clear about your business goals and the desired outcome from the partnership; this will help you get the right service provider for your business. Suppose you are just starting your journey to onboard an accounting outsourcing service provider. In that case, we can help you get started by understanding your business requirements and tailoring solutions to meet them all. You can write to us at: marketing@datamaticsbpm.com, and we will connect you with our accounting experts to get started.