The Evolution of Outsourcing Accounting for Small Businesses
Outsourcing accounting for small businesses has come a long way since its inception in the pre-internet era. Over the years, technological advancements, changing customer behavior, and some noteworthy changes in business practices have significantly impacted outsourcing accounting for small businesses.
While the practice of outsourcing remains the same at its core in delegating specific processes, tasks, or functions to external partners, there has been a significant change in the role of these outsourcing partners. The outsourcing accounting service providers for small businesses now have evolved as strategic business partners for these businesses instead of just being a service provider.
In the pre-Internet era, outsourcing accounting for small businesses was only associated with specific tasks, such as accounting, bookkeeping, financial reporting, Etc. However, the emergence of the internet has significantly transformed the entire operation. The rise of the internet gave birth to offshore outsourcing to countries across the globe.
The service providers in these countries offer cost-effective outsourcing solutions and customized solutions in terms of customer support, data entry, and software development. As the internet became a mainstay in business operations, we saw outsourcing service providers diversify their service offerings with various project-by-project basis solutions.
In this blog, we will take a closer look at the role of outsourcing accounting for small businesses and how it can help small enterprises transform themselves through technological advancements, scalability, and diversification of service offerings. So, let us get started.
Benefits of Outsourcing Accounting for Small Businesses
The best thing about modern outsourcing service providers is that most have a hybrid approach. You can choose the right mix of in-house employees, outsourced partners, and remote workers for your outsourcing strategy.
This approach will not only allow you to retain control over your core competencies but also will allow you to leverage specialized skills offered by your outsourcing partner. However, there are several other benefits that these outsourcing partners have to offer.
Here are some noteworthy benefits modern outsourcing service providers offer to small businesses looking to outsource their accounting practices.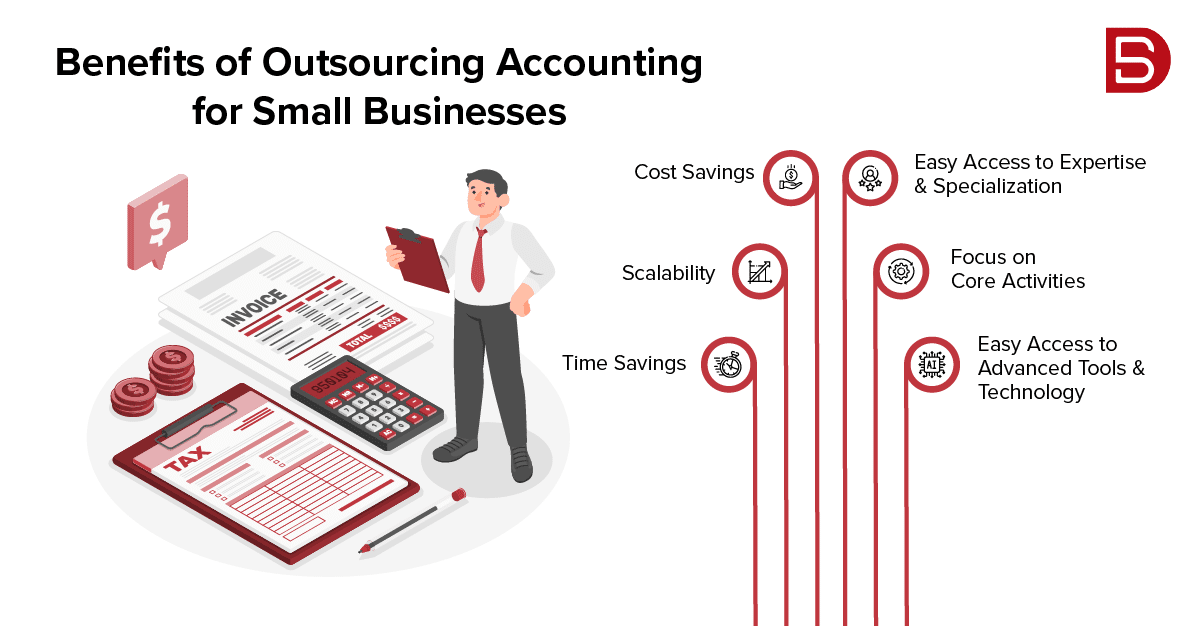 Hiring in current times in no way is challenging for a business, irrespective of your shape and industry. Outsourcing can address that for you by allowing you to avoid the expenses associated with hiring full-time, in-house accountants. It saves you salaries, office space, benefits, and equipment costs and will enable you to scale up or down your operation as needed.
2. Easy Access to Expertise and Specialization
Outsourcing service providers have a rich pool of experts in accounting, taxation, and financial management for you to choose from. As a result, you get instant access to a team of specialists who know industry regulations and best practices and are aware of changing rules and compliance guidelines to adhere to.
The best thing about outsourcing accounting services is that they can easily be scaled up or down per your business needs. This flexibility is handy when dealing with a seasonal surge in work and needed extra workforce to meet the business needs. If you are a small business, this can help you achieve rapid growth and is a smart way to scale up.
4. Bring Back the Focus on Core Activities
When you outsource small accounting tasks, you free up enough time and resources to return your focus to your core activities. These core offerings can be anything from sales to product development to customer service. This will help you boost your productivity and attain the fast-paced growth needed to grow in the modern business landscape.
More often than not, accounting can be time-consuming, especially for inexperienced campaigners or newbies in the accounting field. With outsourcing, you get the chance to outsource all your tasks to professionals, allowing you to free up enough time and resources for you to grow your business.
6. Easy Access to Advanced Tools and Technology
Investing in advanced accounting software and tools can be expensive for small businesses. However, if you partner with an outsourcing service provider, you automatically get access to advanced accounting software and devices without investing heavily in acquiring them. Access to these tools will help you streamline your accounting processes and boost the accuracy of your accounting tasks.
Overall, from scalability to smart resource allocation, outsourcing enables you to grow your business while maintaining financial accuracy and focus on your core strategic activities. All you need to do is to find a reputable outsourcing partner that can help you achieve your business goals with absolute ease.
However, as technology grows, we will see the evolution of these outsourcing services in the accounting landscape as well. So, let us have a look at the future of outsourced accounting for small businesses and what it holds for us.
The Future of Outsourced Accounting for Small Businesses
While it is hard to predict the future of outsourced accounting for small businesses, we can see many trends and developments that will be pivotal in shaping up.
Here, we have listed some of the noteworthy developments that can decide the future of outsourced accounting:
• Deeper Technology Integration
We already have seen a heavy influx of technology in the accounting space. With the rise of advanced technologies such as artificial intelligence (AI) and machine learning (ML), we expect to see a wave of changes that will significantly enhance data analysis, automate repetitive tasks, and deliver real-time insights to elevate the overall accuracy and efficiency of the accounting processes.
• Cloud-Based Accounting Solutions
Cloud-based accounting platforms are already a mainstay of every successful accounting operation; we expect them to get even more prevalent. With that, you can expect seamless collaboration between outsourcing partners and businesses. At the same time, it will significantly boost communication and enable real-time access to financial data for improved decision-making.
• Data Security and Privacy
We have seen an overwhelming number of data breaches in recent times; as these breaches become a growing concern, there is a rising need for stringent cybersecurity measures. Outsourcing service providers will actively invest in robust data security and privacy measures to safeguard the sensitive financial information of their clients. This will also make them compliant with data protection regulations and protect them from attracting any penalty or fine by the authorities.
The future is hybrid. There is no denying that fact. A blend of human expertise and automated processes will drive the future. While automation has emerged as the preferred mode to handle mundane tasks for accounting professionals, there has always been and always will be a need for complex data analysis, human communication touch, and strategic planning, which can only be achieved through hybrid models.
• Remote Work and Global Talent Pool
Remote work culture stays here. Across the globe, businesses of all shapes and sizes embrace remote work culture for business gains. It gives them easy access to a global talent pool and allows them to collaborate globally on diverse perspectives.
Overall, the future of outsourced accounting for small businesses will be driven by the seamless integration of technology in everyday operations, the creation of specialized services, and a considerable emphasis on compliance and data security. As businesses grow and adapt to the changing business landscapes, outsourcing will continue to evolve and support their growth trajectory.
Go Ahead, Scale Smartly through Outsourcing
For small businesses looking to scale smartly, outsourcing as a strategic approach is one of the most effective ways. It not only drives growth for your business by allowing you to free up space by outsourcing your mundane tasks but also will allow them to leverage external resources by partnering with global outsourcing service providers. If you are thinking about strategically outsourcing your accounting functions to streamline operations and get external expertise for strategic growth initiatives, we have the service offerings to enable it all for you. Just write to us at marketing@datamaticsbpm.com, and we will have our experts reach out to you with the right service offering.