Historically, accounting has been associated with meticulous number-crunching, bookkeeping, and financial statement preparation, all the processes predominantly paper-based. It would never be the same; everyone associated with the accounting world, from the CPAs to the CFOs, knew it.
And that's precisely what happened, the wave of technological development, with the fast proliferation of digital transformation across all business landscapes, also instigated profound digital change in the accounting world. While commonly referred to as "digital transformation," it can be seen as a paradigm shift in how accounting processes are conducted, analyzed, and recorded across industries.
As a result, we now have accounting professionals and CPAs advocating adopting digital solutions in favor of legacy systems and processes or facing extinction in an increasingly volatile business environment.
The Rise of Digital Transformation in Accounting
In totality, the notion of digital transformation encapsulates technology integration in its digital form across various business processes. The sole purpose behind the integration of digital transformation is improvement in accuracy, efficiency, and decision-making across the board. It was the same with the digital transformation in accounting as well.
The rise of digital transformation was quite apparent across all industries, none more prominent than accounting. Digital transformation in the accounting industry required a change, as businesses had to migrate their paper-based manual processes to automated digital solutions.
These digital solutions came from Cloud-based accounting, Artificial Intelligence (AI) driven automation, Machine Learning (ML), advanced data analytics, and blockchain. Each of those technologies massively contributed to making accounting a digital process.
Drivers of Digital Transformation in Accounting
The propulsion digital transformation in accounting can be attributed to several parameters, the most prominent of them all being the huge surge in amount of data that organizations now have. In the legacy accounting processes, the data entry processes were all manual, resulting in slow and error-prone processing of data. The manual processes made it tough to handle huge volumes of data and even tougher to manage the complexities of modern business transactions.
Furthermore, the huge rise in the amount of customer data businesses now have access to, gave birth to the need of real-time insights and data-driven decision-making. This further fueled the acceleration of digital transformation in accounting giving rise to the usage of near-real-time data analytics tools to analyze and interpret complex financial information.
While the rise of data and data analytics tools accelerated digital transformation in accounting, the accounting landscape also required to integrate with other systems. As a result, with rise of customer relationship management (CRM) and enterprise resource planning (ERP) platforms, the accounting world found themselves at a completely new forefront of ensuring consistency across departments using modern technology.
As the organizations grew, their accounting needs grew with them and eventually became complex. The growing complexity of information also worked as a driver of digital transformation as it required organization to adopt digital tools, that can accommodate the large volumes of data without requiring any addition manual effort.
Technological Advances Reshaping Accounting Practices
While we have discussed the drivers of digital transformation in accounting, it is only fair to look at some of the most significant technological advances reshaping the accounting practices we know.
These technological advances have given us new methodologies, tools, and processes that can significantly boost the accounting landscape's accuracy, efficiency, and decision-making process. These technological advances have revolutionized traditional manual methods, allowing accountants and CPAs to become more data-driven, strategic, and value-focused professionals.
Here are some of the noteworthy technological advancements that can be attributed to the digital transformation in the accounting landscape: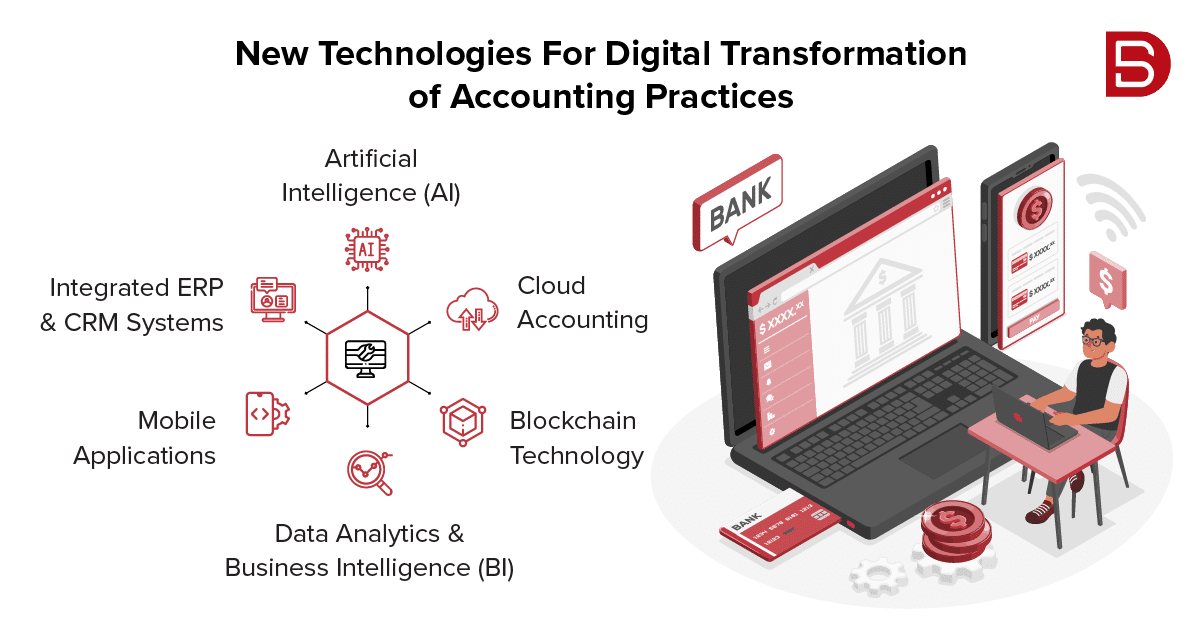 • The Emergence of Artificial Intelligence (AI)
Automation tools already did great in automating tasks and processes. The emergence of artificial intelligence took it all to the next level by allowing us to interpret complex data entry and deduce meaningful conclusions.
It also helped with automated invoice processing, making it error-free and fast. We are also seeing the use of AI algorithms for predicting future financial trends based on historical data, allowing businesses to make accurate budgeting and financial forecasting.
• Cloud Accounting and Remote Collaboration
The emergence of Cloud-based accounting platforms gives you real-time data access irrespective of location, resulting in seamless collaboration between teams located at different locations.
Cloud-accounting media also makes it easy to access the data stored in Cloud anytime you need it. It also allows you to scale the whole operation up or down as needed without investing heavily in expensive IT infrastructure.
• Blockchain Technology in Accounting
The emergence of Blockchain as a means to safely record and maintain tamper-proof transaction records has made it easy for the accounting industry to minimize fraud risks and improve efficiency. Using smart contracts, you can easily automate financial processes such as invoicing and payments, further enhancing the accuracy and efficiency of your entire economic operation.
• Data Analytics and Business Intelligence (BI)
The advances in data analytics have given us some advanced analytics tools that can help you derive actionable insights from substantial financial datasets. These data analytics tools also help you visualize data for a more straightforward breakdown of complex financial information allowing you to make strategic decisions based on data.
• Mobile Applications for Financial Management
Mobile Applications have also made considerable advancements to get on-the-go financial data interpretation. The mobile nature of these applications allows accounting leads to stay updated on their financial information irrespective of their location. Some of the practical use cases of these mobile platforms come in the form of simpler expense tracking or finance management.
• Integrated ERP and CRM Systems:
almost over, thanks to the humongous rise in integrated systems. In our endeavor to have consistent and accurate financial data across functions, CPAs and accounting leaders are moving towards integrated systems such as CRMs and ERP systems.
These systems not only automate processes such as data entry, inventory management, and procurement but also ensure that the system's data is accurate and updated at all times.
All these technological developments, along with several others in the form of Robotic Process Automation (RPA), Chatbots, and Virtual Assistants, are reshaping the accounting industry by bringing in efficient, accurate, and data-driven decision-making. Embracing all these technological developments can help you streamline your processes, increasing profits and business growth. If you are looking to digitally transform your CPA practice, by using AI and ML to automate some of your tasks, we can help you get started. Just write in to us at marketing@datamaticsbpm.com and we will have one of our accounting and bookkeeping experts reach out to you at the earliest.