Lockdowns, work-from-home, cash-crunch, and now, tax preparation in the UK – the tough times for the UK taxpayers seem to have spilled over from 2020 to 2021. That is not to say that it is restful for any earthling. or that things have cooled down this year for the rest of the world. We don't know yet and it would be childish of us to assume that the worst is over for us all. So, keeping our spirits up, we will handle what's in front of us, one step at a time. And for anyone working in the UK, the utmost priority must be the tax preparation and filing, for which the deadline is approaching faster than you think.
According to a recent announcement by HM Revenue and Customs (HMRC), from the 12.1 million tax returns expected to be filed this year, 55% have already been filed This leaves the remaining 5.4 million self-assessment customers less than a month to file their tax return in the UK. Now, with the tax season in the UK at its peak, individuals  and businesses alike have outsourcing tax preparation and accounting services at the top of their priority lists. So, we thought we'd chalk down a simple path to outsourcing tax preparation and accounting for your firm, making it easier for you to beat the glaring deadline.
Why CPA Firms Mustn't Delay & File Today?
It's an annual occurrence, it's inevitable, yet somehow the CPA firms are never fully prepared for it. Tax preparation and filing, in fact, any corporate accounting process for that matter, isn't something that can be wrapped up in a month or two. Yet, it's always the dreaded rubbernecking deadline that makes CPA businesses rush their clients' tax returns. The pressure of imminent deadline results in errors, which at times are damaging for the business. It can even cost your clients penalties, excess tax, or even worse, not enough tax!
When it comes to tax preparation, accounting, and bookkeeping services, it's a given that different CPA firms will have different needs. So, it's imperative to identify your business needs in terms of tax preparation outsourcing well in advance.
If you are looking to shed some burden off your accountant's straightaway here's a list of tax preparation services, you can outsource with a simple call with our tax experts:
Personal Tax Returns (SA100 Individuals)
Partnership Tax Returns (SA800 Partnerships)
Trust Tax Returns (SA900 Trust)
Corporation Tax Returns (CT600 Corporate)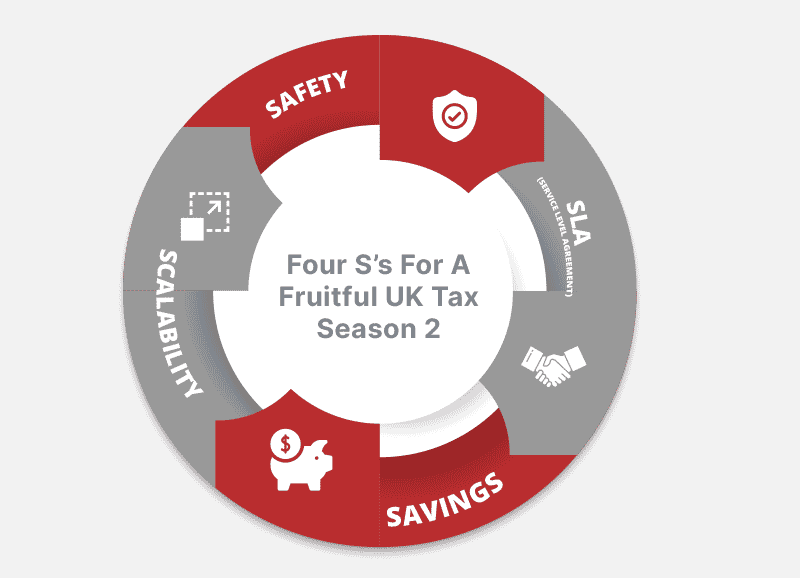 Safety is of utmost importance when it comes to financial services. Therefore CPA firms ought to be extra vigilant and compliant when outsourcing their proficient taxation and accounting service. We have a workforce comprising of accountants proficient in accounting and tax preparation, ensuring absolute safety and compliance of your data by integrating industry standards and best practices.
How we ensure best-in-class security:
Firewalls for data safety
Data backup mechanism to avoid any data loss
Cloud-based solutions for added protection and ease of access
Robust security measures to prevent any abuse of privilege
No system vulnerabilities, both internally and externally.
SLA (Service Level Agreement) – Quick Turn Around Time (TAT)
Safety and Quick Turn Around Time (TAT) is not an oxymoron. Trust us. We understand that it's not often you hear "safe" and "fast" in one sentence. There always is an element of doubt when someone says, "safe and fast." However, by outsourcing our proficient taxation and accounting service, you can be assured of both, a quick TAT and law compliant processes.
We work with over 100+ global CPA accounting firms, incorporating industry standards and best practices to bring down the agreed SLAs and offering a quicker TAT meeting the client requirements. It all gets accomplished through a team of accountants and experts in accounting and tax preparation, who are well-versed with the laws and regulations of different countries. It also means getting cases closed ahead of the deadline and thus, avoiding paying hefty penalties.
With the pandemic forcing businesses to cut corners to maximize their gains, outsourcing tax preparation could be significantly beneficial. We already are deep into the tax season and every minute of your accounts team is worth a lot. In such times, by outsourcing the taxation division, you lessen the burden on their shoulders, allowing them to focus on expanding the business and saving the cost that you would incur otherwise. You not only will be saving money by filing timely returns for your clients, but you will also be avoiding any penalties due to missed deadlines.
Scaling workforce to meet the demand of peak tax season given the current industry health could get rather challenging. Add to that the expenses incurred towards building a resourceful team well-equipped with the taxing laws of each country, just for the tax season. By outsourcing tax preparation and filing only for the tax season, the CPA firms can scale their accounting practice. Not only is a firm's reputation protected against silly accounting errors, but with an outsourcing partner for the tax season, firms can ensure greater accuracy and efficiency in tasks across departments.
The time is RIGHT NOW! And, you can start right here.
We, at Datamatics Business Solutions Ltd.(DBSL), work with over 100+ global CPA, accounting firms, and enterprises across industries, offering a comprehensive suite of tax preparation, bookkeeping and accounting, and payroll compliance solutions. Our team of domain experts leverage cutting-edge tax, accounting, and payroll technologies, ensuring process excellence, and clear focus on delivering outcomes. So, if you are on the lookout for a partner to prepare your account books, you have us just a call away!